Personal Mobile Banking
The Personal Mobile Banking service from Bank of China (Hong Kong) provides general banking and investment services. The easy and user-friendly interface is ideal for anyone who wishes to use their handset to manage their finance conveniently anytime anywhere.

BOCHK Mobile App provides you with one-stop banking and investment services, as well as the latest financial information, helping you manage your wealth flexibly.

Download now
 

Android application package*
Version: 5.3.4
Updated on: 23 June 2017
One set of username and password
One set of username and password enables you to manage your personal finances via Internet / Mobile Banking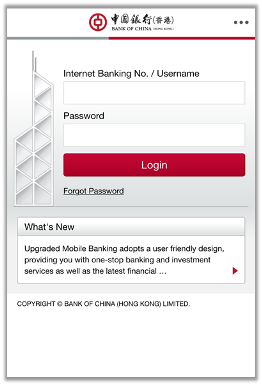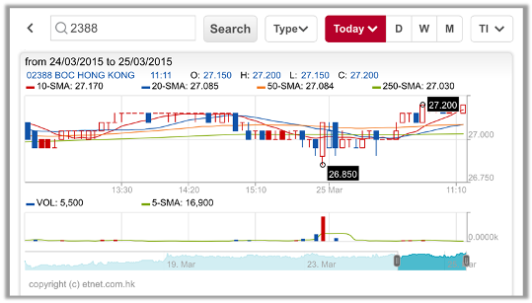 Remarks:
Please download mobile applications from official application stores or BOCHK website, and ensure the search wording is correct. iPhone or iPad users may download BOCHK Mobile Applications via App Store; Android users may download BOCHK Mobile Applications via Google Play or BOCHK website.
*Recommended Operating System: Android 4.1 or above.
Apple and the Apple logo are trademarks of Apple Inc., registered in the U.S. and other countries. App Store is a service mark of Apple Inc.. Android, Google Play, and the Google Play logo are trademarks of Google Inc..
"Small Value Transfer" service
Choose the fund recipient on your mobile phone book/ enter the recipient's BOCHK account number

Transfer funds instantly without any handling fee

Pay up to HK$5,000 per day with unlimited transactions

"Regular payee" option to save your payee information, making the next payment even more convenient
"Fingerprint Authentication"
Login to Mobile Banking simply with your fingerprint!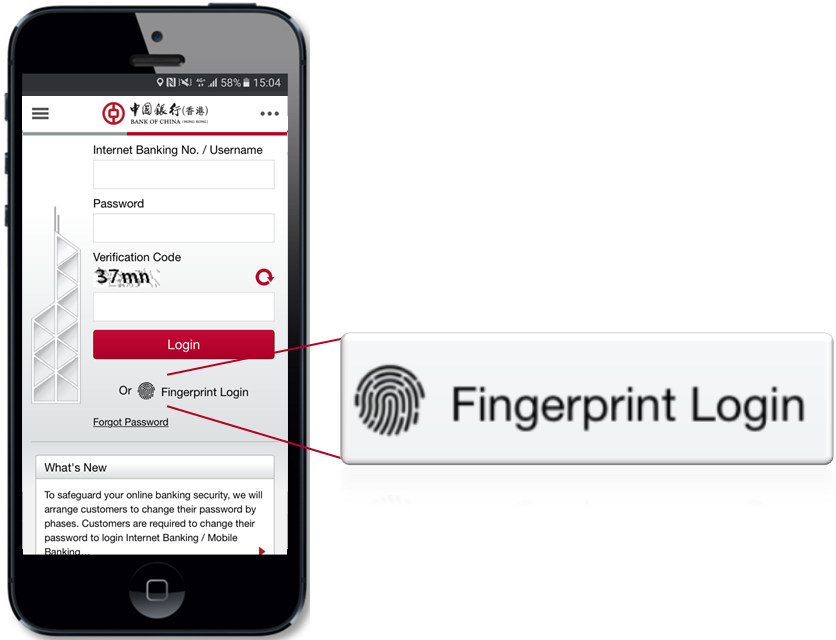 Service Feature
All it takes is just one click
Upgraded Personal Mobile Banking enables you to conduct transaction with ease. You can conduct Fund Transfer, Local Bank Transfer, Currency Exchange, Time Deposit, Bill Payment, HK Securities Trading / A Share Trading, HK Securities Margin Trading / A Share Margin Trading, eIPO Subscription / Financing, Precious Metals, Precious Metal / FX Margin, Cash Before Card, Cash Instalment, Apply Instalment, Loan Top-Up and account overview enquiry quickly.
Seize investment opportunity
Provides you detail stock quotes and latest market information, helping you to capture every investment opportunity1.
Strong Security
The website is protected with 128-bit Secure Socket Layer and other security measures. We aim at providing you with a safe and reliable trading platform which gives you peace of mind.
No Extra Application Procedure Required
For existing Personal Internet Banking customers, you can access our Mobile Banking service by simply clicking the login link of BOCHK Mobile Application and then inputting the login details of Internet Banking. No extra application procedures or software installation are needed.
1Applicable to the Upgraded Mobile Banking
Recommended Operating Systems and Browsers
To ensure customer data security,our recommended platforms and browsers will be:
iOS 7.1 or above (Default Browser)
Android 4.1 or above (Default Browser)
Windows Phone OS 8.0 or above (IE Mobile 11 or above)
Important Notice

Risk Disclosure
The following risk disclosure statements cannot disclose all the risks involved. You should undertake your own research and study before you trade or invest. You should carefully consider whether trading or investment is suitable in light of your own financial position and investment objectives. You are advised to seek independent financial and professional advice before you trade or invest. You should seek independent professional advice if you are uncertain of or have not understood any aspect of the following risk disclosure statements or the nature and risks involved in trading or investment.

Risk of Securities Trading
The prices of securities fluctuate, sometimes dramatically. The price of a security may move up or down, and may become valueless. It is as likely that losses will be incurred rather than profit made as a result of buying and selling securities.