Programme Overview
BOCHK has been offering a promising career path to outstanding university graduates. Established in 2006, our 30-month Management Trainee ( "MT" ) Programme aims to nurture bright, potential and young executives and to develop future leaders for our business.
Programme Structure
Our MT Programme comprises a wide range of focused lectures, on-the-job training, job-rotations and executive shadowing. We also provide mentoring and ongoing performance coaching to help you develop the required skills and techniques. In addition, you will be required to complete special projects and assignments, and participate in cross-departmental events to broaden your horizons and gain practical experience.

Training and Development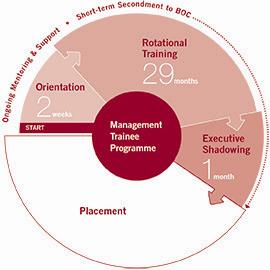 Orientation: First 2 weeks
The orientation in the first 2 weeks upon commencement of the programme encompasses both in-class training and action-based learning. This session gives you an overview of the Bank's structure, corporate culture and regulatory requirements. You will also have a chance to gain insights into our businesses, strategies as well as features of our products and services through face-to-face interaction with heads of our various business units.
Job Rotation: 29 months (consisting of 20 months in core business segments and 9 months in functional departments)
Job rotation is the core element of our MT Programme. This offers you an exposure to the Bank's front-end banking businesses as well as the middle- and back-end support units. You will be offered job rotations in our three core business segments, including Corporate and Institutional Banking, Personal Banking, and Financial Markets, for a 20-month period. You will then undergo another 9-month rotational training in at least two functional departments, including but not limited to, Risk Management, Internal Audit and Bank-wide Operations. During the process, you can take an active role in making your rotation preferences, and our ultimate aim is to offer you a better understanding of our end-to-end service chain. You can also establish working relationships and network which will lay a solid foundation for your long-term success.
Executive Shadowing: 1 Month
Through observing and interacting with our executives, you will have a better understanding of their daily routine and acquire practical skills in management, decision making and leadership. This offers you real-life experience of how executives put their knowledge into practice.
Mentoring and Support
Throughout the 30-month MT Programme, a senior business executive will be assigned as your mentor to provide guidance on your career and personal development. He/She will also give you an overview of the Bank's business strategy and assistance in developing crucial network.
In addition, experienced HR Managers will offer regular coaching sessions for you to ensure your holistic and solid development. Regular assessment will be conducted to evaluate your performance.
During the course of specific rotation, experienced managers will also act as a line mentor to provide you with training and timely feedback for development.
Short-Term Secondment to Bank of China
You will be offered a valuable opportunity to work across the border at our parent bank, Bank of China. This is a challenging business environment to help you build a wide working network for future career development.
Placement
Upon completion of the MT Programme, you can indicate your preference on the business segment or functional department that you wish to join. The placement will be determined based on the feedback from your mentor and availability of the position in the business unit.
Career Path
Those who have completed the programme and demonstrated leadership potential will be offered managerial positions. BOCHK has in place a well-established and comprehensive talent management system for its staff. We are committed to continuously enhancing their professionalism and unleashing their potential for sustainable success.
Selection Procedures
Qualifications
Final year university students graduating in the summer of 2014 or bachelor's degree holder with at least upper second honours (or equivalent), master's degree holder preferred
Less than three years' work experience
Possess excellent organisational and planning competence, strong interpersonal and communication skills, as well as outstanding analytical and leadership qualities
Dynamic, self-motivated, passionate and commitment to excellence
A good team player
Proficient in both English and Chinese. Fluency in Mandarin is an advantage

1. Online Application
You are required to complete an online application by providing your personal details, academic background, work experience, records of extra-curricular activities, professional qualifications as well as any special skills that you possess.
2. Online Assessments
Should you be short-listed in the first-round selection, you will be required to complete an online assessment within a prescribed timeframe to demonstrate your verbal, numerical and logical reasoning abilities.
3. Assessment Centre
You will be invited to participate in our assessment centre if you performed satisfactorily in the online assessments. The half-day assessment is specially designed to evaluate your level of competencies based on our competency requirements. You will be put through a series of intensive job simulation exercises to gain a general perspective of the job.
4. Occupational Personality Questionnaire
The questionnaire is a psychometric based assessment to uncover your thinking, interpersonal and emotional styles in a scientific approach, providing us with in-depth insights of your potential performance at work.
5. Panel Interview
Executives from our core business units and HR will form an interview panel to pose to you challenging questions. We wish to know your career aspirations and your motivation to join the Bank, as well as your unique experiences.
6. Final Decision
If you have met the requirements throughout our selection process, you will be given an offer to join our MT Programme which shall commence in the summer of 2014.
Application Deadline
15 November 2013