GBA Account Opening Service
BOCHK has launched GBA Account Opening Service that allows you to open a mainland account without leaving Hong Kong and makes your life more convenient, and you can travel hassle-free in the Greater Bay Area while embracing a series of new advantages!
Cross-Border Account Opening for Peace of Mind
Simple – Apply with your Hong Kong permanent identity card and Home Visit Permit#.
Convenient – You can link your mainland account with mainstream e-payment applications in the Mainland to fulfil your payment needs when travelling in China.
Secure ─ The maximum daily transfer and deposit limit for Type II accounts opened in Hong Kong through the attestation service is RMB 10,000; while the maximum annual limit is RMB 200,000. And the maximum daily limit for spending, bill payment, transfer out, cash withdrawal is RMB 10,000; while the maximum annual limit is RMB 200,000. The daily ATM cash withdrawal limit for the ATM card is RMB 1,000. In addition, the transaction limits for Type III accounts are lower, ensuring greater protection.
3 Easy Steps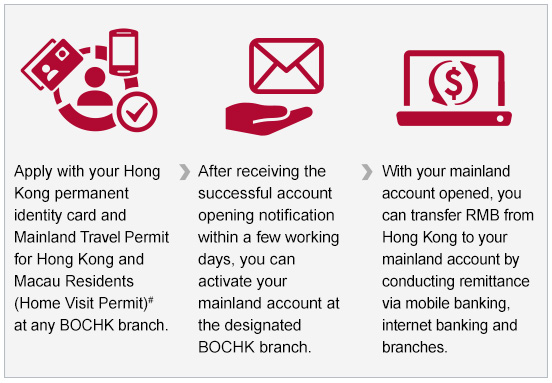 Smart Payment Smart Living
By linking with mainstream mobile electronic payment applications in the Mainland, you can enjoy dining, shopping, taking transportation and more in the Mainland hassle-free.
By linking with the WeChat official account of Bank of China, your account details can be viewed conveniently and securely.


#The Applicant must be 18 years of age or above and is a BOCHK personal banking account holder. The applicant needs to provide a self-owned Hong Kong or Mainland China mobile number, otherwise linking with mobile electronic payment applications on the mainland may be affected.
Gerenal Terms:
The service offered by Bank of China (Hong Kong) Limited (the "Bank") is applicable to Personal Banking customers only.
The above products, services and offers are subject to the relevant terms. For details,please refer to the relevant promotion materials or contact Bank staff.
The Bank reserves the right to amend, suspend or terminate the above products,services and offers, and to amend the relevant terms at any time at its sole discretion.
In case of any dispute, the decision of the Bank shall be final.
Should there be any discrepancy between the English and Chinese versions of this promotion material, the Chinese version shall prevail.