The new BOCHK Mobile Banking brings you a brand-new experience
Offers Brand-new Look, Quick and Easy Transfer, Professional Investment and Mobile Token. Learn more

Please download BOCHK Mobile Application and login to Mobile Banking immediately!

Download now
 

Android application package*
Version: 6.2.0
Updated on: 23 August 2019

Remarks:
Please download mobile applications from official application stores or BOCHK website, and ensure the search wording is correct. iPhone or iPad users may download BOCHK Mobile Applications via App Store; Android users may download BOCHK Mobile Applications via Google Play or BOCHK website.
Apple and the Apple logo are trademarks of Apple Inc., registered in the U.S. and other countries. App Store is a service mark of Apple Inc.. Android, Google Play, and the Google Play logo are trademarks of Google Inc..
Tips for Logging into Mobile Banking (Login with password / fingerprint / Face ID)
Logging into Mobile Banking the first time and tips for changing password: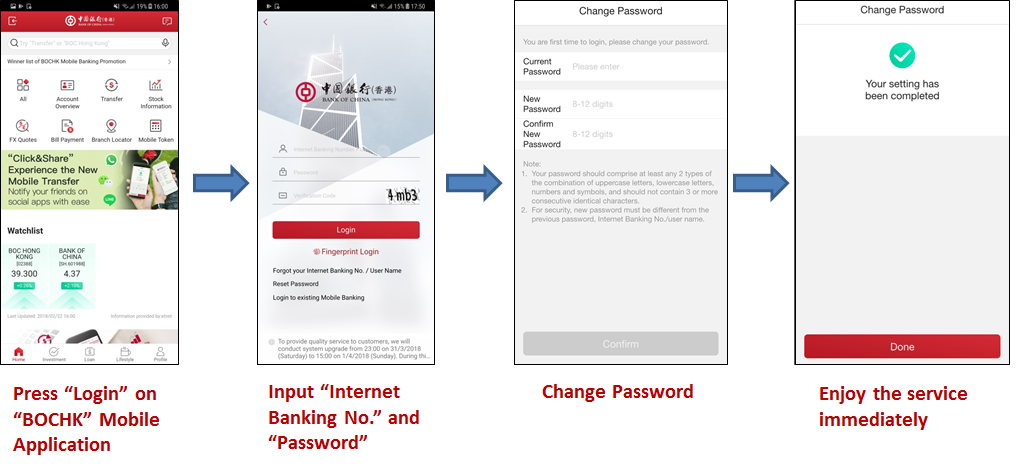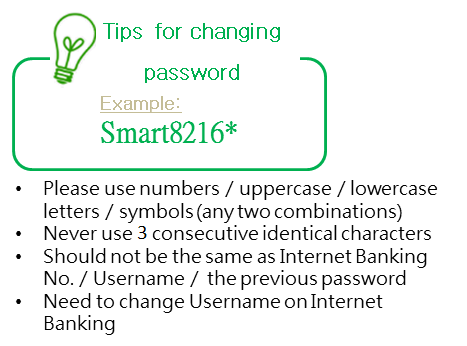 How to log into Mobile Banking: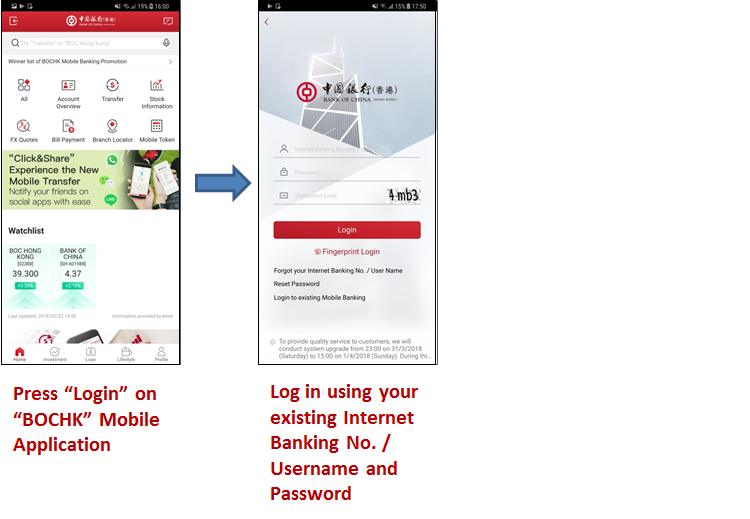 Fingerprint / Face ID Login:
Login to Mobile Banking simply with your fingerprint or Face ID!



Privileged Online Pricing
Items

Via
Mobile Banking

Via
Branches

Privileged offer up to

Example
(Per HK$100,000 transaction, unless otherwise specified)

Securities

Preferential
brokerage fee as low as
0.18%1

Preferential
brokerage fee as low as
0.25%

0.07%

Saved HK$702

Online real-time quote – Basic3

This service is only available on Internet Banking and Mobile Banking

Time Deposits


Up to
1.35% p.a.4
Up to
1.2% p.a.

+0.15%

Enjoy extra HK$150

Credit Card Repayment

Waived

HK$20

-

Each transaction saved
HK$20

Comparison with standard charges for branch transactions.
Please refer to our securities service charge table for details.
This example refers to a Diamond Star member who conducts securities transaction.
Diamond / Gold Star members of the Securities Club have 1,000 free quotes per month. Silver / Bright Star members of the Securities Club enjoy 500 free quotes per month. HK$0.10 will be charged for each additional quote used (The minimum charge is HK$10 per month).
The time deposit offer is subject to the terms and conditions. For details, please contact our branch staff or refer to the Bank's website (Deposits > Time Deposits Offer). The above preferential time deposit interest rate is quoted based on the time deposits interest rates published on 27 March 2018.The example refers to the customer who has taken up the Integrated Account Service and placed a 12-month HKD Time Deposit, and is for reference only, customer can also contact the Bank's staff for the updated preferential time deposit rate.

Flexible Transaction Times
Cut-off time of online services

Advantage

Securities

24-hour securities order placement

Round-the-clock order placement
IPOs: Cuts off at 10am on the closing day of subscription

Subscription until the designated time of the closing day

Remittances

3:30 pm - 10:15 pm (varies with different currencies)

Enjoy up to extra 2 hours*

e-Cheque

Issuance: 24 hours

Deposit: 8 am - 9 pm (Mon-Fri)

8 am - 4 pm (Sat)

*Compared with remittance of the same currency via branch.