Smart Account service
Set up daily transaction limit and top up methods and provide you with a customized and safe payment environment.
How does it work
Smart Account provides you with an independent and secure "e-Account" for petty cash to link with different mobile payment tools. Also, multiple top up ways are provided for transferring your balance from saving/current account to Smart Account, allowing you to make easy and secure payment.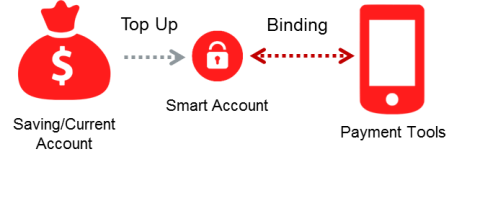 Tailor-made and more than just an account
Multiple Ways to Top Up
You can choose "Direct Pay", "Automatic Top Up" or "Top Up via Mobile Banking only" to reload your Smart Account anytime to suit your needs better.
Direct Pay
Directly deduct payment shortfall from Master Account to settle payment in full
Automatic Top Up
Provide a choice of daily top up amount from HK$100 to HK$5,000 and it can be conducted once per day only

Whenever the remaining balance is insufficient for payment, amount will be reloaded to your Smart Account automatically
Top Up via Mobile Banking only
Only deduct remaining balance from Smart Account

Reload your Smart Account via Mobile Banking anytime
Personalized Transaction Limit
You can adjust the Smart Account Daily Transaction Limit, subject to a cap of HKD 10,000.
Transaction Record Filtering
You can view transaction records of the past 180 days by transaction platform. A simple click to manage and check your payment records.
How to open Smart Account
No more visiting of branches. Smart Account can be opened via Mobile Banking anytime. Just take few minutes to bring you a secure and convenient experience.
Click Menu Bar and select "Account > My Smart Account " and then login Mobile Banking

Press "Open Smart Account Now"

Set up "Main Account", "Daily Transaction Limit" and "Ways to Top Up", then press "Agree & Submit" after reading Terms and Conditions. Complete account opening after confirming the information and inputting OTP.
General terms:
The above products and services are subject to the relevant terms. For details, please refer to the relevant Terms and Conditions and FAQ or contact our staff.
The Bank reserves the right to amend, suspend or terminate the above products and services and to amend the relevant terms at any time at its sole discretion without prior notice.
In case of any dispute, the decision of the Bank shall be final.
Should there be any discrepancy between the Chinese and English versions of this web page, the Chinese version shall prevail.