BOC Commercial Platinum Card
For the "BOC Credit Card Key Facts Statement", please click here.
BOC Commercial Platinum Card is your company's best companion in many countries and regions, providing comprehensive financial services, benefits and protection. Please stay tuned for the latest announcements on this website or contact with your Relationship Manager for details!
Welcome Offers
From now until 31 December 2023, successful new applicant can enjoy:
HK$1,000 Free Spending Credit (Required to accumulate spending of HK$10,000 or above in first 2 months)
(Applicants who are existing cardholders of BOC Commercial Card (including Visa Infinite, Visa Platinum, Mastercard Platinum, UnionPay Dual Currency Platinum), or have cancelled the above cards or were once cardholders of the above cards in the 12 months prior to the date of application will not be entitled to the welcome offer upon approval of application.)
Terms and Conditions of BOC Commercial Card Promotional Offer
Annual Fee Offer
Perpetual annual fee waiver
Unlimited Free Access to Premium Airport Lounges
Enjoy unlimited free access to the specific Airport Lounges by Card during promotion period.
By simply presenting your BOC Business Card and boarding pass, you can enjoy free access to the specific global Plaza Premium Lounges* on the day of travel. For the list and facility details of specific Plaza Premium Lounges, please visit www.plazapremiumlounge.com/en-uk
Promotion Period: from now until 31 December 2023
*Not applicable to Plaza Premium Lounges which are listed with "This lounge is owned and managed by a third party" on official website (Plaza Premium Lounges located in China are excluded from this restriction).
Enjoy exclusive Visa Commercial Card Offers#
Enjoy a 30% discount on cross border limousine service between Hong Kong and Guangdong, China
Please contact the merchant via email at vi@kcm.com.hk, by phone at +852 5529 9113 or fax at +852 2619 1189 for booking.
Exclusive B2B offers
Visa Commercial Card provide a variety of B2B offers, designed to enhance the efficiency of your business. For details, please visit www.visa.com.hk/en_HK/visa-commercial-offers.
#For details, please visit www.visa.com.hk. The offer is provided by Visa and subject to related Terms and Conditions.
BOC Credit Card (International) Ltd (the "Company") accepts no liability for the quality of or any other matters relating to the products and services provided by Visa and the merchants. The merchants are solely responsible for all obligations and liabilities relating to the products and services on offer. The Company, Visa and the merchants reserve the right to suspend, change, or terminate the offers or amend the offer terms and conditions at their sole discretion. All matters and disputes will be subject to the final decision of the Company, Visa and the merchants.
Contactless Payment Function
With the Visa payWave contactless payment function provides you with hassle-free card spending worldwide where Visa payWave is accepted. Simply tap the card against the reader to settle any transaction of HK$1,000 or below without the need of signature verification. For details, please visit www.visa.com.hk.
Mobile Payments Services
You can add BOC Commercial Platinum Card to Apple Pay, Google Pay or Samsung Pay to enjoy a quick and safe mobile payment experience. Please click here for details.
Rewards Whenever You Spend
You can earn 1 Gift Point upon HK$1 spending with your card. You can choose whatever you love from a variety of rewards. Please click here for more details.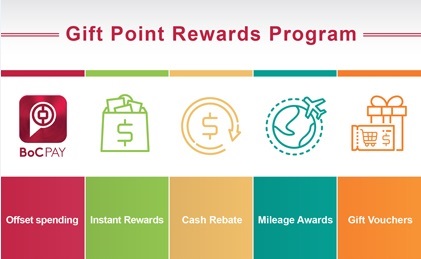 Comprehensive Services of BOC Commercial Card
Selection for Transaction Setting for Cost Control Management




Below settings can be applied individually for each BOC Commercial Card:

Transaction Category - Set transaction category* based on business needs
Transaction amount - Set the upper limit* for transaction amount
Option to opt-out Cash Advance service
Option to opt-out Gift Point Rewards Program


* Not applicable to BOC UPI Dual Currency Commercial Platinum Card

Convenient Online Service




Enquire latest transactions record
Enquire Gift Points balance and gift redemption

Bill payment (You can also setup forward dated bill payments or regular amount payments)

Details


Flexible for Business Expense Management




Self-defined Credit Limit

According to the company's needs, Individual Cardholder's Credit Limit that fall within the company's approved total credit limit can be defined which helps easier financial monitoring.




Clear Monthly Statement

A detailed summary and independent statement of all transactions made by each cardholder is prepared, reconcilement can then be done without any mistake.




Central or Individual Repayment

Company can choose to settle the statement balance either by individual cardholder or centrally by the company.




Convenient Cash Withdrawal

Cardholders enjoy 24-hour instant cash access and up to 56-day interest-free payment period at any ATM displaying the JETCO/PLUS logo or Cash-Before-Card service via hotline: 2929 2228.

For details on cash advance service fees, please refer to the Fees Schedule.

Convenient and Flexible Repayment




Up to 56-day interest-free repayment period
Various repayment channels, including "Personal Internet Banking Service" and "Corporate Internet Banking", etc.

"SMS" Alert Service



Whenever you use your BOC Commercial Card, our alert system will evaluate the transaction. SMS will be sent to your registered mobile phone if deemed appropriate so as to best protect you against any type of card abuse. If you cannot recognize the transaction as your own, please immediately call our 24-hour Customer Service Hotline: (852) 2581 5188.
For details, please call our 24-hour Customer Service Hotline at (852) 2581 5188.
Reminder: To borrow or not to borrow? Borrow only if you can repay!
General Terms:
The above products, services and offers are subject to the relevant terms.

BOC Credit Card (International) Ltd (the "Company") reserves the right to amend, suspend or terminate the above products, services and offers, and to amend the relevant terms at any time at its sole discretion.

In case of any dispute, the decision of the Company shall be final.

Should there be any discrepancy between the English and Chinese versions of this promotion material, the Chinese version shall prevail.