BOC Express Cash Instalment Loan Top up
For the "Key Facts Statement (KFS) for Instalment Loan", please click here.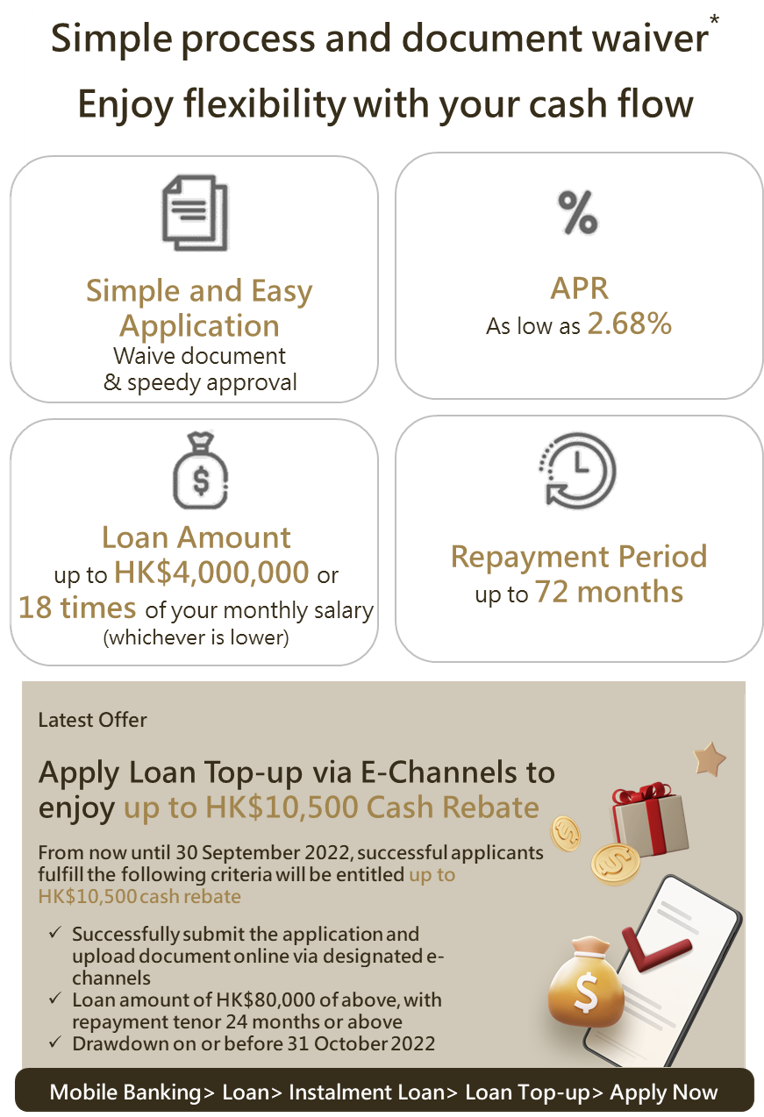 Application Channels
Any BOCHK branches
Application Hotline +852 3711 4688 (From 9:00 a.m. to 9:00 p.m. between Mondays and Fridays, from 9:00 a.m. to 6:00 p.m. on Saturdays, excluding public holidays)

(Please download the latest BOC mobile app to experience the seamless online application.)
Remarks:
*Only applicable to existing BOC Express Cash Instalment Loan customers. BOCHK reserves the right to require customers to provide additional supporting documents in regards to BOC Express Cash Instalment Loan Top up application.
Apple and the Apple logo are trademarks of Apple Inc., registered in the U.S. and other countries. App Store is a service mark of Apple Inc.. Android and the Google Play are trademarks of Google Inc..
The APR of this promotion is from 2.68% - 35.46%.
The above offers are subject to the relevant terms and conditions, please download a copy of the terms & conditions for your future reference.
The APR is calculated according to the guidelines laid down in The Hong Kong Association of Banks. An APR is a reference rate which includes the basic interest rates and other fees and charges of a product expressed as an annualised rate.
Reminder : To borrow or not to borrow ? Borrow only if you can repay !

Terms and Conditions and Remarks of BOC "Express Cash" Instalment Loan/ Balance Transfer