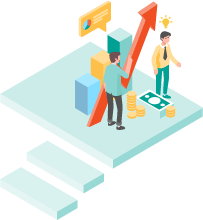 BOCHK Fund Investment Services offer you a wide selection of Investment Funds. Our Investment Product Specialists and representatives from Fund Houses regularly provide you with the latest Investment market commentary and outlook, assisting you to keep abreast of global market trends, managing your fund portfolio and capturing higher potential returns. 
BOCHK not only offers professional fund services, but also provides you with a user-friendly mobile trading platform. With the handy Mobile Banking fund trading platform, you can track and trade funds right at your fingertips!

Fund Price
Alert

Fund Search

Questionnaire
on Investment
Preference

Open Funds
Account

Investment
Market
Commentary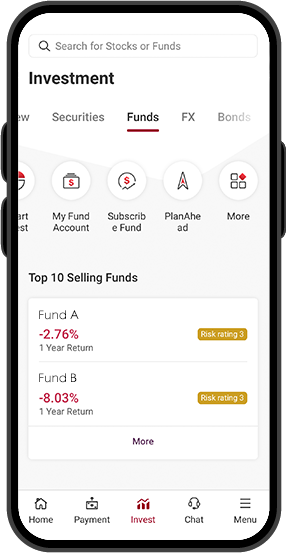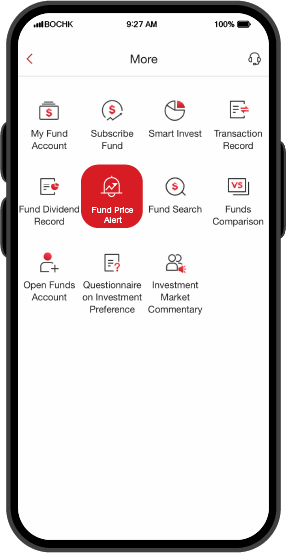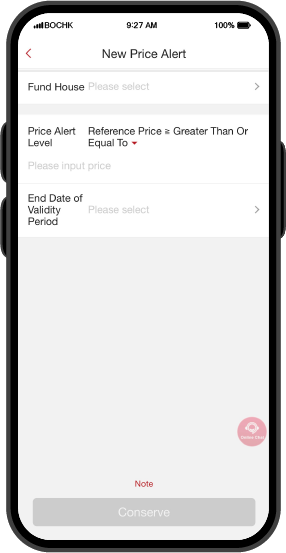 Fund Price Alert
Automatic alerts to notify investors when their pre-set target price has been reached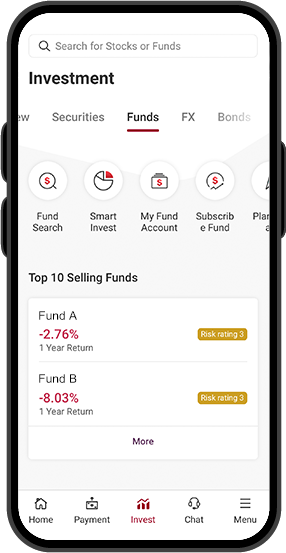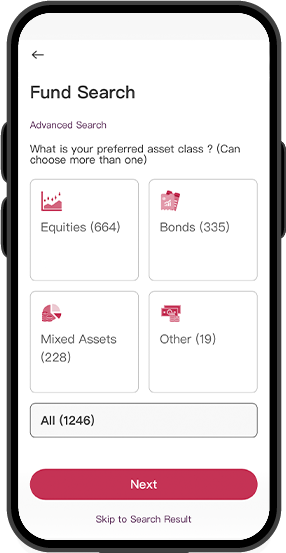 Fund Search
Search for suitable funds across all categories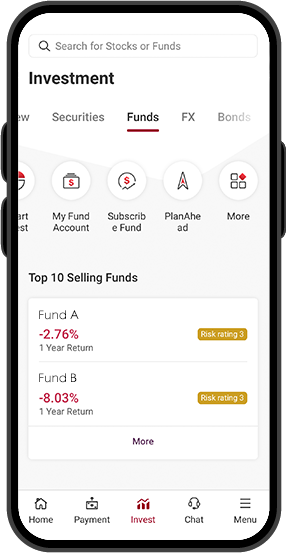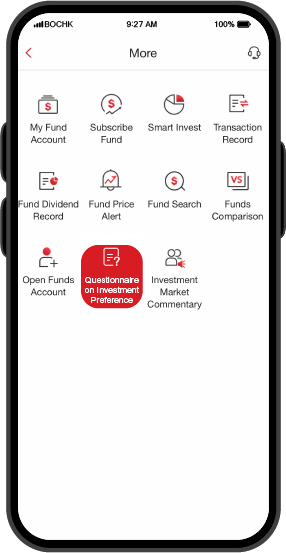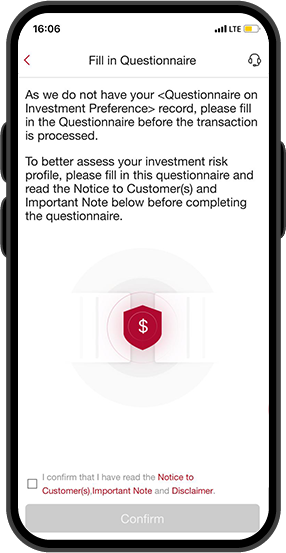 Questionnaire onInvestment Preference
Determine your investment risk profile, enabling you to select investment products that best suit your needs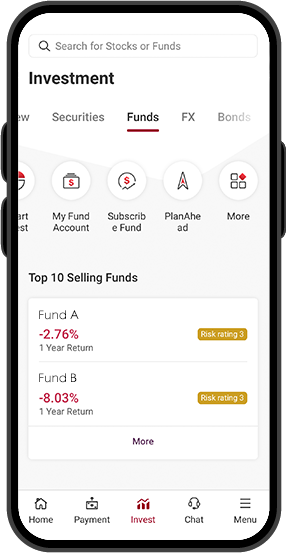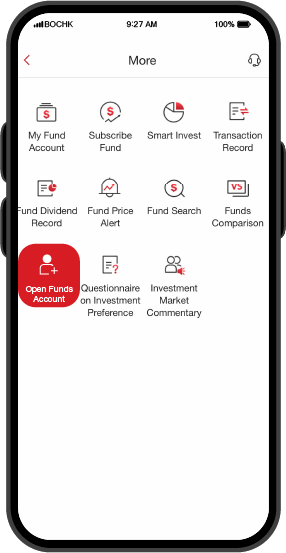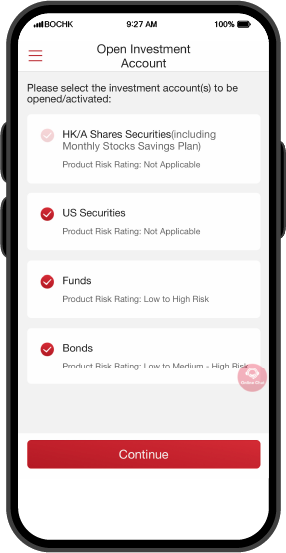 Open Funds Account
Open a fund account conveniently on your mobile phone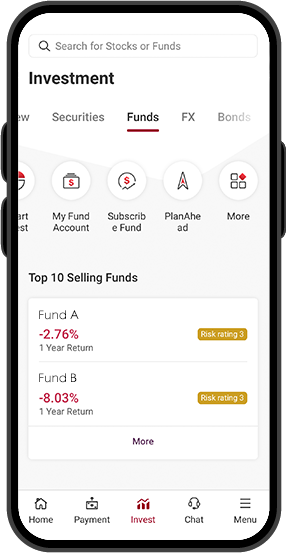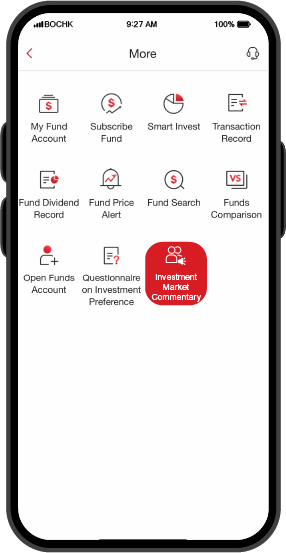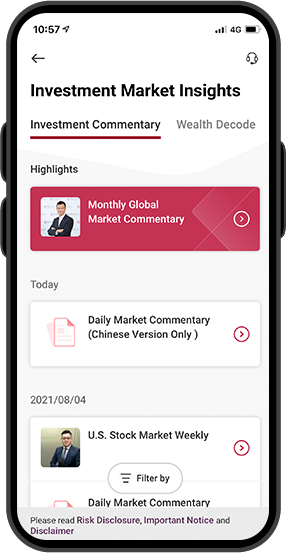 Investment Market Commentary
Be informed by accessing market updates and commentaries any time
Risk Disclosure:
The following risk disclosure statements cannot disclose all the risks involved and does not take into account any personal circumstances unknown to BOCHK. You should carefully consider whether trading or investment is suitable in light of your own risk tolerance, financial situation, investment experience, investment objectives, investment horizon and investment knowledge. You should undertake your own independent review and seek independent professional advice before you trade or invest especially if you are uncertain of or have not understood any aspect of the following risk disclosure statements or the nature and risks involved in trading or investment.
Risk disclosure of Fund:
Fund products or services are not equivalent to, nor should it be treated as a substitute for, time deposit. Although investment may bring profit opportunities, each invest ment product or service involves potential risks. Due to dynamic changes in the market, the price movement and volatility of investment products may not be the same as expected by you. Your fund may increase or reduce due to the purchase or sale of investment products. The value of investment funds may go up as well as down and the investment funds may become valueless. Therefore, you may not receive any return from investment funds. Part of your investment may not be able to liquidate immediately under certain market situation. The investment decision is yours but you should not invest in these products unless the intermediary who sells them to you has explained to you that these products are suitable for you having regard to your financial situation, investment experience and investment objectives. Before making any investment decisions, you should consider your own financial situation, investment objectives and experiences, risk acceptance and ability to understand the nature and risks of the relevant product. Investment involves risks. Please refer to the relevant fund offering documents for further details including risk factors. If you have any inquiries on this Risk Disclosure Statement or the nature and risks involved in trading or funds etc, you should seek advice from independent financial adviser.
This promotion material does not constitute any offer, solicitation, recommendation, comment or guarantee to the purchase, subscription or sale of any investment product or service and it should not be considered as investment advice.
This promotion material is issued by BOCHK and the contents have not been reviewed by the Securities and Futures Commission of Hong Kong.