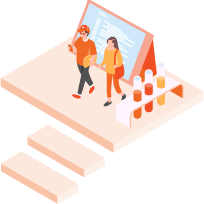 New Experience of Online Insurance
You can now apply for insurance online via BOCHK mobile banking app. A wide range of insurance products makes it easy for you to be insured even staying at home. Get to know more by watching our promotion video!
When should you start to prepare for retirement? Quickly come and have a look to learn from this "Visionary Husband"!
A Visionary Husband Prepares for Retirement
When you grow up, especially after building you own family, protecting yourself and your family becomes paramount important. How will this couple plan this time, and how will you plan as well?
A Protection Plan for Modern Couples
How to protect your home during the summer typhoons and rainstorms? Let this couple tell you!
Smart Home Protection
Important Notes:
The life insurance plan that is underwritten by BOC Group Life Assurance Company Limited ("BOC Life"). The general insurance plan that is underwritten by Bank of China Group Insurance Company Limited ("BOCGI").
BOC Life / BOCGI ("insurers") are authorised and regulated by the Insurance Authority to carry on long term life insurance business and general insurance business in the Hong Kong Special Administrative Region of the People's Republic of China ("Hong Kong").
BOCHK is the appointed insurance agency of insurers for distribution of life insurance products. The life insurance product is a product of insurers but not BOCHK.
BOCHK is granted an insurance agency licence under the Insurance Ordinance (Cap. 41 of the Laws of Hong Kong) by Insurance Authority in Hong Kong SAR. (insurance agency licence no. FA2855).
Insurers reserves the right to decide at its sole discretion to accept or decline any application for the Plan according to the information provided by the proposed Insured and the applicant at the time of application. The Plan and the supplementary riders are subject to the formal policy documents and provisions issued by Insurers. Detailed terms and conditions are subject to the official policy document issued by Insurers. Please refer to the relevant policy documents and provisions for details of the insured items and coverage, provisions and exclusions.
In respect of an eligible dispute (as defined in the Terms of Reference for the Financial Dispute Resolution Centre in relation to the Financial Dispute Resolution Scheme) arising between BOCHK and the customer out of the selling process or processing of the related transaction, BOCHK is required to enter into a Financial Dispute Resolution Scheme process with the customer; however any dispute over the contractual terms of the insurance product should be resolved between directly the insurer and the customer.
This marketing material and/or video is for reference only and is intended to be distributed in Hong Kong only. It shall not be construed as an offer to sell or a solicitation of an offer or recommendation to purchase or sale or provision of any products of BOC Life outside Hong Kong. For Plan details, please refer to the formal policy document and provisions of relevant plans issued by insurers (including but not limited to insured items and coverage, detailed terms, key risks, conditions, exclusions, policy costs and fees). Please contact the branch staff of the major insurance agency or refer to the product leaflet and product page of BOCHK mobile banking for the plan details and risks.
Customers are responsible for the relevant data charges incurred by using BOCHK Mobile Banking Application / Internet Banking
Please download mobile applications from official application stores or BOCHK website, and ensure the search wording is correct.
By using BOCHK Mobile Banking Application / Internet Banking, the viewer agrees to be bound by the content of the disclaimer and policy as it may be amended by BOCHK from time to time and posted on BOCHK Mobile Banking Application / Internet Banking.